For the love of FRESH olive oil
.
Enjoy fresh, in-season single-estate organic olive oil.
Also available to buy from Selfridges.com with international delivery and Click&Collect **
100% ESTATE GROWN & BOTTLED
Eliris is an extraordinary organic extra-virgin olive oil hand-crafted by Iris & Sam at Efthimiadi Estate in northern Greece.
The combination of ideal terroir, fastidious handling and a signature field-blend of Greek varieties produces a distinctive oil with a complex character and unrivalled quality. Authentic and fresh for the discerning palate.
100% raw, natural & cold-extracted. Authenticity bottled.
It is our sincere belief that Eliris, our aromatic extra virgin olive oil, reflects within its character the imprint of the magnificent landscape, idyllic climate and meticulous care that has produced it.
Always enjoyed fresh, within the season of harvest, Eliris is truly extraordinary.
Eliris appeals to a discerning clientele, who not only love the taste but appreciate the distinctive, yet convenient packaging. If you are a professional chef, a home cook who is passionate about fine food, or you are just looking for a unique, personal gift for family, friends or business acquaintances, Eliris will entice and inspire.
Add a touch of luxury and enrich your favourite salads, sauces, pasta and fresh foods. It's ideal for finishing dishes, sous-vide, dressings, marinades and dips.
What makes Eliris extraordinary?
SIGNATURE FIELD-BLEND
of the best Greek olive varieties. Harvested early & blended during cold extraction, produces a distinctive, perfectly balanced olive oil with a complex character. Varieties include Koroneiki, Kalamon, Tsunati, Manaki, Megaritiki & Halkidiki to name a few.
UNIQUE TERROIR
The complete natural environment in which Eliris is produced. Ideal site, soil, topography, and climate. Latitude: 41.17221 / Longitude: 23.84314
EXCLUSIVE SINGLE ESTATE
Olives from trees grown and cared for by Iris & Sam, exclusively on the estate. All trees pruned and harvested by hand.
DEDICATED MANAGEMENT
Full control of production and marketing, from root to table. Strictly organic.
AUTHENTIC
Product supplied fresh from the current season, never mixed with previous harvests or other oils.
UNRIVALED QUALITY
Exceptionally low peroxide value, indicating the degree of oxidation in the oil. Eliris will stay fresh longer than oils with higher scores and has the lowest on the market due to healthy olives & careful product handling. Eliris also has consistently low acidity of less than 0.3%.
EXQUISITE PRESENTATION
Packaging focused on aesthetics, use, convenience and preservation of product quality. Premium dark glass absorbs 99% UV light to preserve the aroma, flavour and quality.
LIMITED RELEASE
Strictly limited release of up to 4000 numbered bottles highlighting the date of harvest (as opposed to bottling), quality and best before information. Reservation advised.
ACCESSIBLE
Visits to the grove welcomed soon with tours of local exporting wineries. Please ask.

Eliris Harvest 2016
Aroma:
A complex mix of intensely herbaceous aromas with culinary herbs, (basil and parsley), and zingy fresh apple skins greet the nose followed by orange and grapefruit juice with a touch of nuts and stalks.
Taste:
The flavours in the mouth are slightly less intense but no less complex with avocado and wet leaves followed by darker salad leaves, black tea and liquorice. Bitterness builds gently with a spike of pepper which, though strong, does not completely overpower the fruit. Bitterness and pepper slowly fades to leave an extremely attractive and lingering after taste of herbs and nuts.
Style:
This oil is medium in style with robust but well balanced bitterness and pepper.
Overall Assessment:
This is a very complex oil with a range of quite distinctive flavours which come to the fore as it is tasted. Its really attractive and intensely fresh aroma leads into a good depth of flavour in the mouth followed by a really delicious after taste. This excellent oil makes a very good dip but it will also come into its own in flavouring and finishing a full range of dishes from the kitchen. The oils has quite a thick texture which will be appreciated by chefs.

The value in [ ] is the EU limit for an olive oil to be classified as "Extra Virgin"
Eliris Harvest 2016
Harvested Oct/Nov 2016
Acidity: 0.31% FFA [<0.80%]
Peroxide value: 0.97 mmol O2/kg [<20]
UV Absorption:
K270: 0.107 [<0.22]
K232: 1.524 [<2.50]
DeltaK: 0.003 [<0.01]
The peroxide test measures the degree of oxidation in the oil. The low value indicates Eliris will not deteriorate as fast as those with higher scores. It indicates how healthy the olives were and reveals how well product has been handled before, during and after extraction.
Harvest 2016 Coming Soon
Harvest 2015
National and Kapodistrian University of Athens
Faculty of Pharmacy
Department of Pharmacognosy & Natural Products Chemistry
Oleocanthal: 342 mg/Kg – average 135
Oleacein: 127 mg/Kg – average 105
Oleuropein aglycon (monoaldehyde form): 43 mg/Kg
Oleuropein aglycon (dialdehyde forms)*: 32 mg/Kg
Ligstroside aglycon (monoaldehyde form): 56 mg/Kg
Ligstroside aglycon (dialdehyde forms)**: 88 mg/Kg
Total Phenols (Folin): 222 mg/Kg (expressed as caffeic acid equiv.)
The levels of oleocanthal and oleacein are higher than the average values (135 and 105 mg/Kg respectively) of the samples included in the international study performed at the University of California, Davis.
The daily consumption of 20 g of ELIRIS provides 14 mg of hydroxytyrosol, tyrosol or their derivatives (>>5 mg) and consequently the oil belongs to the category of oils that protect the blood lipids from oxidative stress according to the Regulation 432/2012 of the European Union.
It should be noted that oleocanthal and oleacein present important biological activity and they have been related with anti-inflammatory, antioxidant, cardioprotective and neuroprotective activity.
The chemical analysis was performed according to the method published in J. Agric. Food Chem., 2012, 60 (47), pp 11696–11703, J. Agric. Food Chem., 2014, 62 (3), 600–607 and OLIVAE, 2015, 122, 22-33.
*Oleomissional+Oleuropeindial **Ligstrodial+Oleokoronal
– Fresh hand-crafted organic extra-virgin olive oil, exclusively from the current season, with all its organoleptic & nutritional value intact.
– Stunning Italian glass designed to absorb 99.9% UV light, preserving the aroma, flavour and quality of our oil.
– A kraft card harvest tag, individually numbered and presented with a hand tied ribbon, for that special touch of elegance.
– A pouring spout for a perfectly controlled flow.*
– Finally, a beautiful gift tube, completes our exquisite olive oil.*
"Kali Orexi" Iris & Sam
* Gift pack only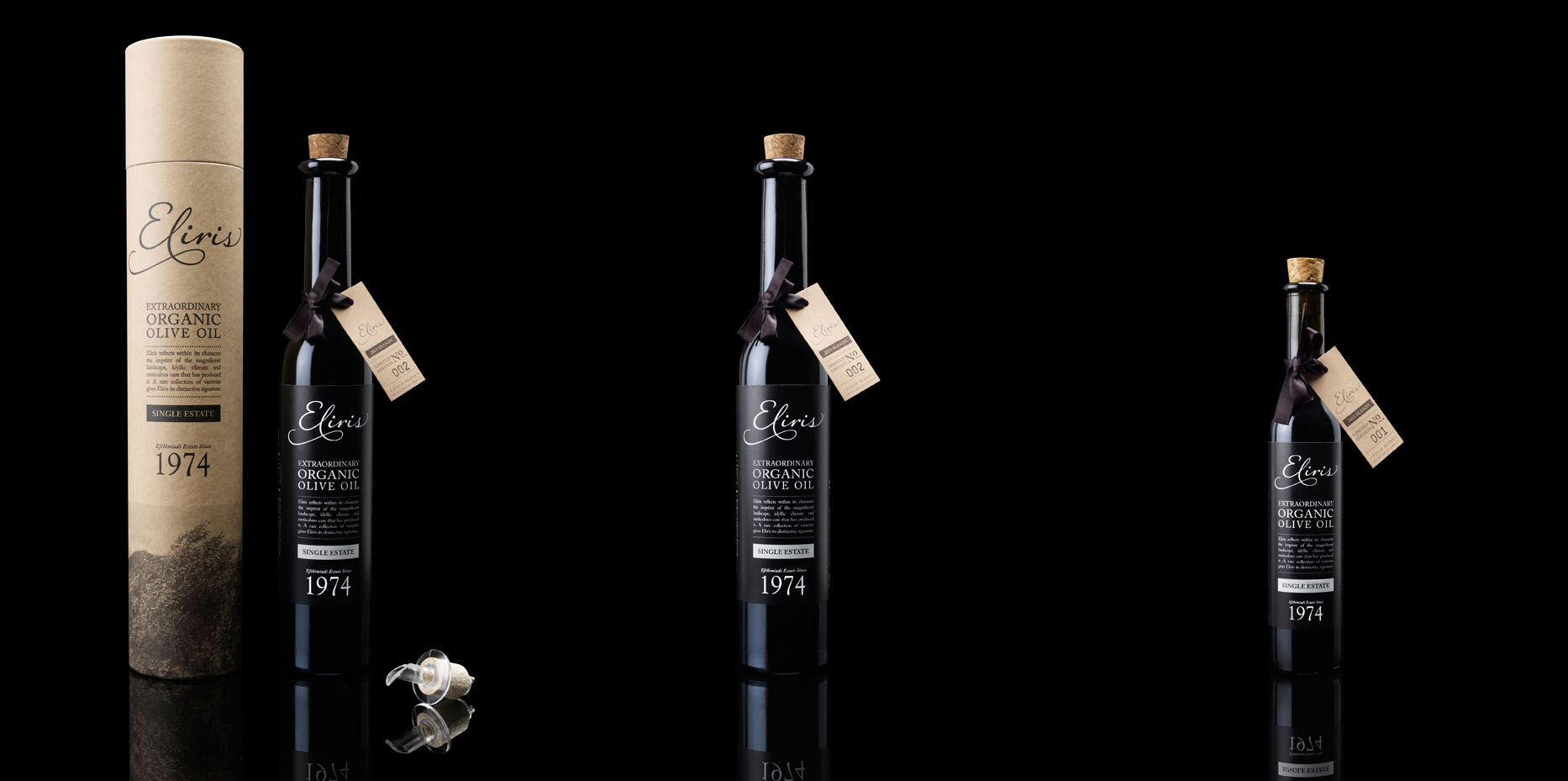 Harvest 2016 Limited Release
Enjoy fresh, in-season single-estate organic olive oil.
Also available to buy from Selfridges.com with international delivery and Click&Collect **