Eliris Harvest 2015 – The Results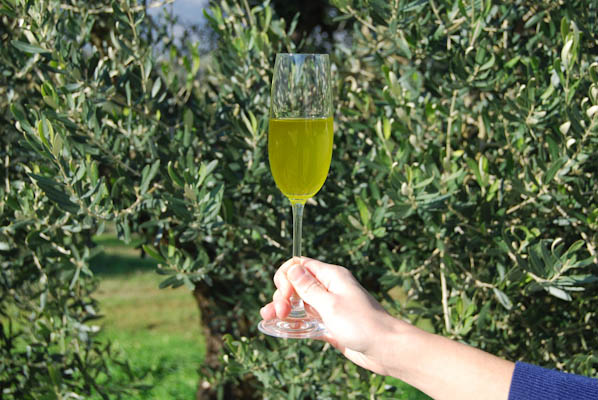 To reserve your share of this year's limited release, pre-order online now eliris.bigcartel.com or email hello@elirisgreece.com.

Aroma:
A very fresh and appealing aroma of culinary herbs and green bananas with some hedgerow
leafiness, stalks and flowers. There is also a touch of grapefruit and nuts.
Taste:
Sweet fruity fruits mingle with green bananas and wet leaves and grass. Strongly growing
pepper with a touch of bitter herbs takes over but never loses the fruitiness. The pepper
lingers lightly into the after taste of nutty biscuits and grapefruit with a touch of greenery.
Style:
This oil is light to medium in style but with quite robust pepper that is really well balanced
with the fruit and delicate bitterness.
Assessment:
This first class oil is extremely well rounded. Its complex aromas give way to equally
interesting flavour tones in the mouth and the pepper, though quite robust, is not at all
aggressive. This would be good oil for all culinary applications and for dipping.
Acidity: 0.24% FFA [<0.80%]
Peroxide value: 1.9 mmol O2/kg [<20]
UV Absorption:
K270: 0.102 [<0.22]
K232: 1.392 [<2.50]
DeltaK: 0.001 [<0.01]
[x] EU limit for an olive oil to be classified as Extra-Virgin.
– Oleocanthal: 342 mg/Kg
– Oleacein: 127 mg/Kg
– Oleuropein aglycon (monoaldehyde form): 43 mg/Kg
– Oleuropein aglycon (dialdehyde forms)*: 32 mg/Kg
– Ligstroside aglycon (monoaldehyde form): 56 mg/Kg
– Ligstroside aglycon (dialdehyde forms)**: 88 mg/Kg
Total hydroxytyrosol derivatives: 202 mg/Kg
Total derivatives of tyrosol: 486 mg/Kg
Oleocanthal+Oleacein (Index D1): 469 mg/Kg
Total of analyzed compounds (index D3): 688 mg/Kg
Total Phenols (Folin): 222 mg/Kg (expressed as caffeic acid equiv.)
Comments
The levels of oleocanthal and oleacein are higher than the average values (135 and 105 mg/Kg respectively) of the samples included in the international study performed at the University of California, Davis.
The daily consumption of 20 g ELIRIS provides 14 mg of hydroxytyrosol, tyrosol or their derivatives (>>5 mg) and consequently the oil belongs to the category of oils that protect the blood lipids from oxidative stress according to the Regulation 432/2012 of the European Union.
It should be noted that oleocanthal and oleacein present important biological activity and they have been related with anti-inflammatory, antioxidant, cardioprotective and neuroprotective activity.
The chemical analysis was performed according to the method published in J. Agric. Food Chem., 2012, 60 (47), pp 11696–11703, J. Agric. Food Chem., 2014, 62 (3), 600–607 and OLIVAE, 2015, 122, 22-33. *Oleomissional+Oleuropeindial **Ligstrodial+Oleokoronal