Eliris organic extra virgin olive oil wins Great Taste Awards 2015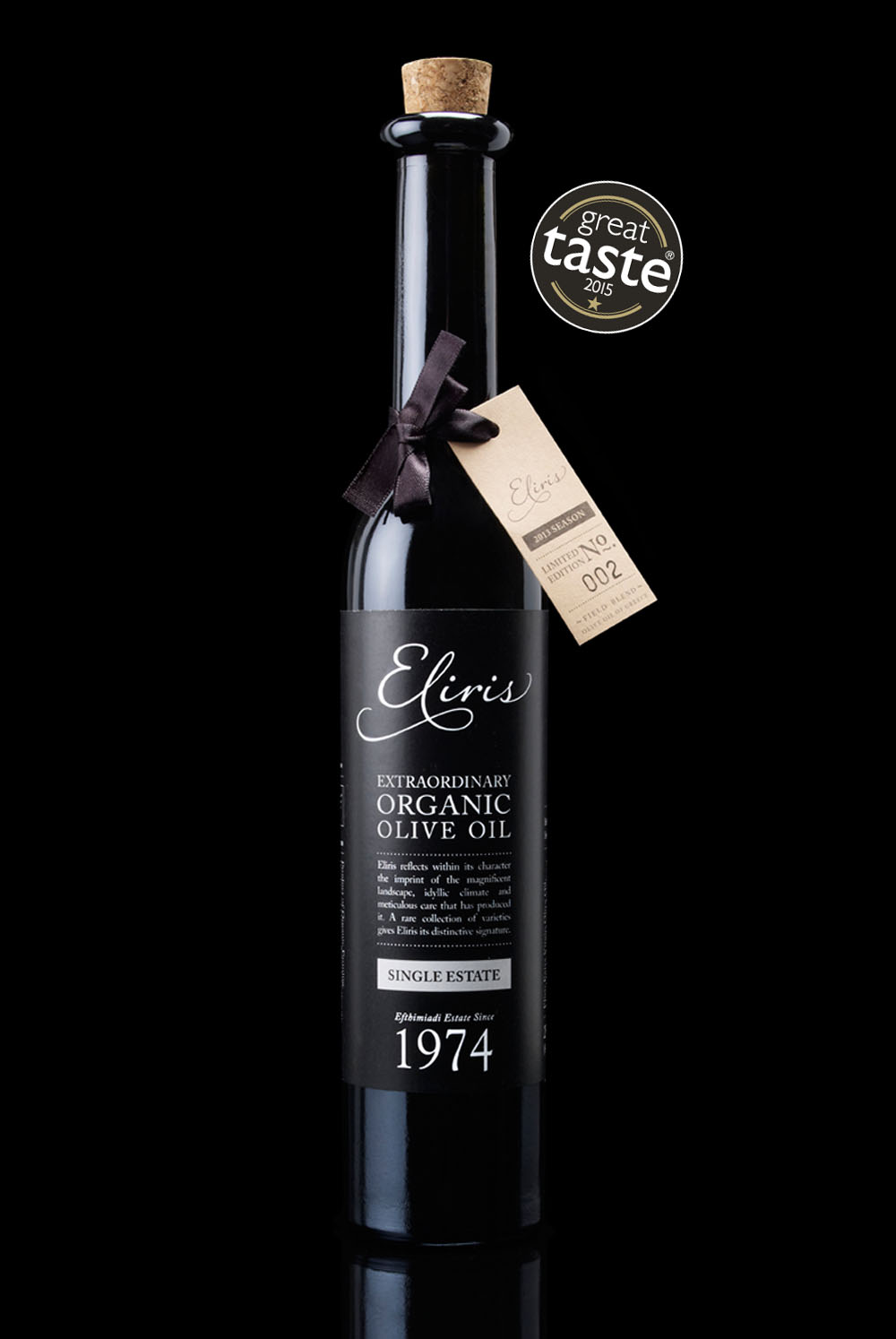 Delighted to confirm we have won a gold star at the UK Great Taste Awards 2015 for Eliris extraordinary organic olive oil.
The world's most coveted blind-tasted food awards, Great Taste, has just released the Great Taste stars of 2015 and Eliris is amongst the producers celebrating as its Greek organic extra-virgin olive oil is now able to proudly carry the little gold and black Great Taste logo.
Judged by over 400 of the most demanding palates belonging to food critics, chefs, cooks, restaurateurs, producers and a host of food writers and journalists, Great Taste is widely acknowledged as the most respected food accreditation scheme for artisan and speciality food producers. When a product wears a Great Taste label it carries a badge of honour but more importantly, the Great Taste logo is a signpost to a wonderful tasting product – hundreds of judges have worked tirelessly to discover the very best, through hours and hours of blind-tasting a total of 10,000 different foods and drinks.
Recognised as a stamp of excellence among consumers and retailers alike, Great Taste values taste above all else, with branding and packaging ignored. Whether it is cheese, ale, steak or chutney being judged, all products are removed from their wrapper, jar or bottle before being tasted. The judges then savour, confer and re-taste to decide which products are worthy of a 1-, 2- or 3-star award.
There were 10,000 Great Taste entries this year and of those products, 130 have been awarded a 3-star, 597 received a 2-star and 2,382 were awarded a 1-star accolade. The panel of judges included Masterchef judge and restaurant critic Charles Campion, TV presenter and cook, Aggie Mackenzie, Great British Bake Off winner, Frances Quinn, Masterchef the Professionals finalist, Adam Handling, food buyers from Harrods, Selfridges, Waitrose and Marks & Spencer, and chefs including James Golding, Chef Director of The Pig hotel group, who have together tasted and re-judged the 3-star winners to finally agree on the 2015 Top 50 Foods, the Golden Fork Trophy winners and the new 2015 Supreme Champion.
Finally on Monday 7 September, at a nail-biting Awards' Dinner at the Royal Garden Hotel, London, the great and the good from the world of fine food will gather to hear who has won the Golden Fork Awards and the final applause will be reserved for the Great Taste Supreme Champion 2015.